PRM software (Partnership management software) will allow you to leverage the reach and audience of your partners to grow your business as never before.
At some point, you will want to speed up the growth of your business. One way how to do it efficiently – is through partners and affiliates.
This business growth strategy seems to be really working for both sides as more people are trying to discover what affiliate marketing is:
The success of affiliate business is further supported by the US affiliate marketing spending growth, which will jump to over $8bn in 2022 from around $5bn it was in 2017.
Best Partnership Management Software
Let's take a deep dive into some of the best prm software platforms that you may find, I will try to expand this list as I find new partnership management services.
if you are looking to grow your business you might want to check out my post on workflow tools or just head to the software review section.
Referral Rock
Referral Rock is among the best online PRM solutions. You can use it to manage various types of relationships from brand ambassador programs, influencer relationships, affiliate and customer referrals, channel partner programs, and so on.
This partner relationship management software is renowned for its numerous features. For example, the tool allows you to track and manage leads as well as find and onboard partners. It has a versatile API integration, adaptability to mobile devices, and great customer support. 
Referral Rock can be a bit overwhelming with all its options, but it gives you everything that you need to monitor and manage various types of relationships. Whether you're an online or an offline company, this PRM software can help you get new leads and increase sales.
The company provides a dedicated success manager to every client. Because of that, you will get a grasp of the PRM system much faster. There is also a custom support that can help you out if things go astray.
Referral Rock pricing
The tool has 3 basic plans: Starter ($200), Growth ($400), Established Business ($800). All of them are paid on a monthly basis, and they differ in terms of members, programs, rewards, and integrations.
Salesforce PRM software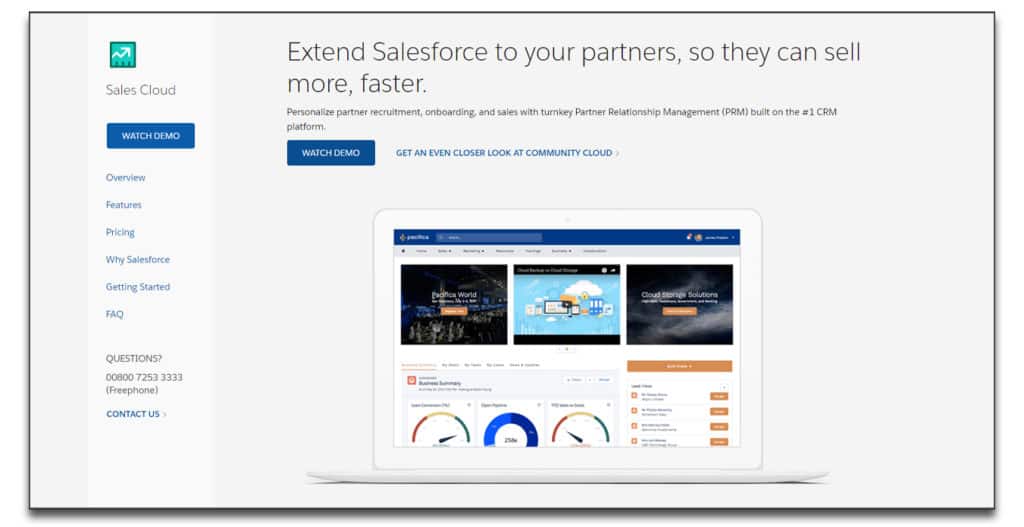 Salesforce is probably the most popular software brand in the world, not only for partner relationship management but for business in general. The company has a tool for every aspect of the business ranging from sales, partnerships, marketing, customers, and so on.
When talking about partner management software, in particular, this platform allows you to personalize all your sales and collect real-time data. A company can also utilize it to improve relationships and provide great training to partners.
The PRM software can be used by anyone. However, it is especially great if you're using one of the other Salesforce tools. It comes as an add-on to Sales Cloud, allowing you to manage all your commercial needs from one place.
Salesforce allows you to centralize all the processes while authorizing or restricting certain partners to sensitive data. The tool is great for the creation of marketing campaigns and managing MDF. You can integrate it with numerous third-party apps, which would provide additional versatility.
Salesforce can also automate claim processing and fund requests. Needless to say, it allows your partners, regardless of their marketing experience, to build campaigns, and monitor them through the software's simplistic interface.
Salesforce pricing
Salesforce partnership software is charged per login ($10) or per member ($25). These are monthly costs, but they're paid on an annual basis.
ZiftONE PRM
Like some other companies on the list, ZiftSolutions provides various services for its clients. Their channel platform unifies marketing, sales, learning, connectors, services, and PRM, all in one place. 
ZIftONE PRM tools allow you to make a positive first impression on your potential partners. It simplifies the onboarding process with its amazing interface. What's great about it is that you can create a customized experience for each one of your partners. This is especially important if you're dealing with entrepreneurs from different industries and people who perform different roles. 
The PRM software has great tracking features that allow you to monitor the progress of all your partners. Its unique dashboard and reporting can help discover weaknesses in partners' marketing plans, which can then be adjusted and improved.
Here are some of the main features you can utilize after getting a subscription: global portal tools that come in 23 different languages, an intuitive portal builder that allows you to make simple edits whenever you want, guided onboarding makes integration easier for new partners, segmenting partners into groups based on their behavior allows you simplify communication.
ZiftONE pricing
You will have to contact the company in order to get the pricing for their partner relationship management software. However, you have access to a demo, which will make it easier to make a decision.
Magentrix
Magentrix is among the best PRM solutions for creating customer portals. The platform can be integrated with Salesforce and Microsoft Dynamics, thus allowing you to combine your favorite marketing tools.
With this partner management software, you can share information, communicate with partners, and deliver content through a customizable platform. Magentrix is especially great for businesses that want to keep the same brand feeling throughout different channels and platforms.
The tool can be used by any type of company regardless of its size. Its value increases if you have to share a lot of data. Among others, this PRM software should help you streamline registration, onboard partners and clients at a much faster rate, and it will also enable real-time cooperation with various shareholders.
The tool has numerous features such as incredibly detailed reports, the ability to integrate itself with some of the most popular marketing and sales platforms, partner tracking, deal registration, gamification, various articles, documents, and playbooks that will teach you how to use Magentrix the right way.
Magentrix pricing
Like most other tools on the list, this isn't a free PRM, although you cannot find the pricing on the website. Instead, you will have to contact their sales team to get a quote.
Tune
If you're looking for a SaaS to help you work with influencers, there aren't many PRM tools better than Tune. It is especially great for finding new leads and managing them. Tune has a nice, simple interface that will help people who have no prior experience with partnership software.
The platform will guide you through different stages of partnership cycles. From onboarding to managing and payouts, the software will help your connections every step of the way. If you're an advertiser, Tune will help you prevent potential fraud while allowing better control of payments. Networks can benefit from partner relationship management software's infinite scalability as well as its real-time data streaming.
Although the PRM software is amazing for influencers, it can help everyone. Tune is good for publishers, affiliates, resellers, app makers, and various other business people. It has some specific features that might be lacking on other platforms. For example, Tune relies on a unique tracking system that doesn't use cookies or clicks.
Tune pricing
Businesses can choose between 4 plans: Bootstrap ($499), Startup ($879), Scale ($1500), and Custom (contact the company). Keep in mind that these are monthly plans for Advertisers. You also have Network plans that include Enterprise ($799) and Custom.
Impartner PRM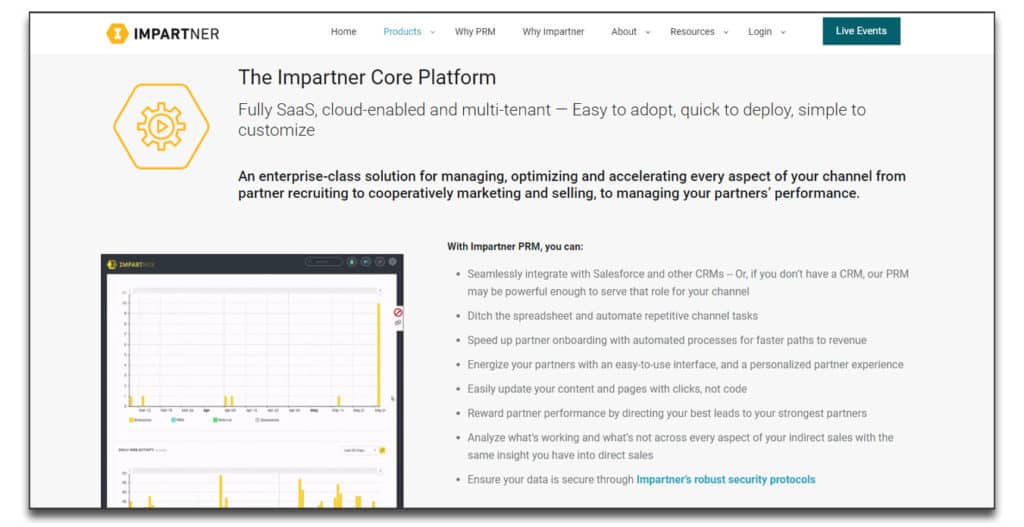 This PRM system is focused on converting leads as quickly as possible. It also has a good onboarding feature that would allow you to train future partners relatively quickly. As a result, you will be able to increase profits in no time.
Some of the tool's main features include complex reporting, calendars and reminders, onboarding and training for new partners, deal registration, partner tracking, and management, various integrations, lead tracing, MDF, and document management.
There are several reasons why you should consider using Impartner PRM over some other tools. For example, the software reduces guesswork that is otherwise common for these platforms. You can create customized modules that would provide partners with deadlines for various activities. Impartner PRM allows complete automation of a partner's journey while also eliminating the need for tickets. It is also great at rewarding positive behavior.
The tool has a single sign-on feature and automated MDF solutions. You also have access to support in several different languages. What's even better is that the software can be integrated with Salesforce. Your customers can choose channel partners according to their location, services, and certification. Lastly, this PRM software allows the creation of personalized content.
Impartner PRM pricing
You need to contact the company to get a quote.
Channeltivity
Channeltivity is a great solution for bigger companies that require a lot of automation for their daily processes. It is a cloud-based software that will allow you to tackle MDF requests, partner training, and deal registration in a relatively simple manner.
If you're already using Salesforce CRM or HubSpot, you will be glad to hear that this partner management software can be integrated with both of them. You are also able to create personal data sources which can be utilized by the partners. That way, they can start doing things your way from the get-go.
Some of the tool's main features include the creation of separate templates and documents for every partner, channel lead management that allows you to assign leads and monitor partners' progress, as well as a messaging system that sends automated notifications to your partners, thus simplifying things for everyone.
Among others, this software allows social collaboration and sharing. You can use it to create strategies together with the partners, send real-time reminders, and provide the right information at the right time. Channeltivity provides users with a complex data analytics suite that allows them to track various partner activities across the board.
Channeltivity PRM pricing
The program has 3 different plans: Standard Edition ($1399 per month), HubSpot Edition ($1699 per month), Salesforce Edition ($1699 per month).
Allbound PRM
If you're looking for software that would simplify your onboarding, you should definitely go with Allbound PRM. This is one of the best PRM tools for new partners. It is a cloud-based platform that allows you to create learning tracks for future prospects. You can use it for onboarding, deal registration, co-branding, collaborations, and many other things.
Allbound PRM gives you a lot of flexibility when dealing with new partners. Companies use it to control session length, impose inactivity timeouts, create single sign-on pages, set two-factor authentication, etc. You also have a lot of freedom to customize the platform according to your needs and desires.
With this tool, you can find partners who are showing high engagement levels. You can use this data to focus on a potential relationship with individuals who really want to work with you. Nevertheless, the best thing about this platform is that it allows businesses to create guides that would simplify the learning process for new participants. These guides can be customized according to the partners' location, industry, and other features.
Allbound PRM pricing
Allbound has 3 plans, and you have to contact the company for a quote for each one of them.
Trackier
Trackier is a platform that can easily be customized. You can use it regardless of the company size; it is great for agencies, advertisers, and ad networks. The PRM software is great for onboarding, managing campaigns, and tracking success.
Some of the platform's best features include advanced fraud detection, utilization of a smart link system that should improve monetization, high-tier optimization features, and integration with more than 100 different apps.
Due to a high level of integration and customization, you can create a platform that has various widgets and tools. The user can get hourly reports, which will help you understand conversion rates, also helping you discover the optimal time to convert the leads. With a smart optimization feature, you are able to block sources that don't have enough CR.
Trackier pricing
There are 3 monthly plans at your disposal: Pro ($299), Agency ($499), and Enterprise (customized plan based on your needs).
Affise prm software
Affise is a PRM software that allows you to manage and optimize various partner campaigns in real-time With this tool, your company can perform full-cycle marketing campaigns and maximize its profits.
This software is applicable to any business. It can be used by financial institutions, software developers, eCommerce brands, performance agencies, affiliate marketers, app developers, and everyone in between. The tool is especially popular for its analytics. You have more than 50 breakdown stats that can give you valuable insights about partners and their progress.
The company puts emphasis on the platform's internal chat, reporting tools, lead scoring, partner tracking and management, onboarding features, document sharing, and integration options. Its plans are pretty awesome, especially for smaller companies. Affise plans are based on performance. You will only pay if you manage to convert.
Affise pricing
Customers have two plans at their disposal: Scale ($499) and Custom (ask for a quote). Both of them are paid on a monthly basis. You also have a demo that would allow you to check the tool's main features.
Main Features of Partnership Management Software
The vast majority of the listed tools have a trial, I would strongly advise you to give a shot to a few of those – to get a feel for what fits you and your business more. Below are some areas that you might want to focus on:
Reporting and Tracking
Of course, all the PRM tools will have it, just make sure that it fits your needs and shows you the level of detail that you want. In addition to that, it is great when you feel "right at home" without any learning curve in a new user interface.
Partner Onboarding
In the same manner, as you lead your new clients through a funnel to show them all the ropes, you want to have this same approach with your partners. The PRM tools that you pick should have this option to set the new partners' onboarding procedures and make them fully automatic.
PRM Software FAQ
What does PRM stand for?
Partners Relationship Management.
What does partner relationship management software do?
It puts all the communication and tools to work with your partners and affiliates in one place.