This is the exterior renovation we did two years ago. You can read more about the renovation details here.
I really wanted copper accents on our home but I knew that they would quickly turn a solid brown.
While that color is pretty for a lot of homes and 'looks', I wanted to keep the warmth of a light patina on copper gutters for our home.
So, doing some research led me to the option of sealing the copper gutters. I decided I'd give it a try.
I've held off doing a tutorial on how to seal copper gutters to prevent them from turning brown because I wanted to be sure that the products I used actually worked.
I'm pleased to say that the Everbrite clear sealant has worked super well!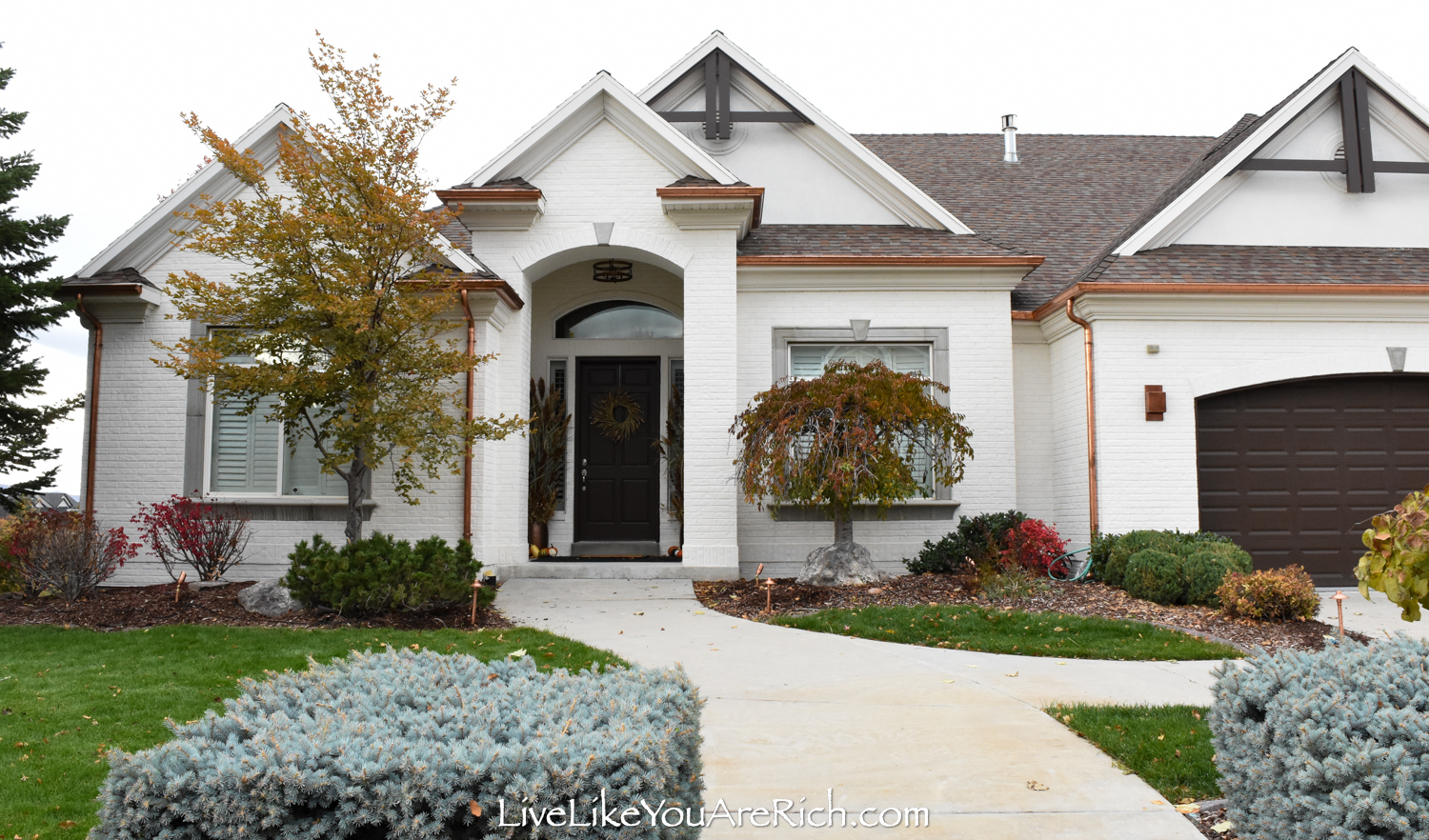 My gutters today look the same way as they did when I sealed them two years ago and the protective coating still is clear/invisible (it hasn't yellowed, chipped, or worn off).
Below are two photos that I just took the day I published this post, about two years after the photos above were taken/the sealant went on the gutters.
Although the time of day I took these photos is different, the gutters look the same as when I put Everbrite on them.
It didn't take long or cost much to seal these gutters and it won't need reapplication for many years to come. If you'd like to do the same to keep a copper gutter from turning brown, I'd highly recommend it.
Here are the supplies you'll need and the steps to take.
Supplies for Sealing Copper Gutters to Keep Them From Turning Brown
microfiber rags (new) You'll want many as these get pretty dirty fast
microfiber applicator sponge/pad (I'd have a few on hand)
Everbrite clear protective coating for metal  you can also order from Everbrite's website here.
How to Seal Copper Gutters to Keep Them From Turning Brown
Check out the video on this post if you are more of a visual learner on steps to take to seal your copper gutters.
1- Make sure the gutters are the color you want them to be. There are various ways to do this. Read on to see what may work for you.
If your copper gutters are brown, you can restore them back to their shiny copper color using a restoration chemical. Check out Everbrite restore kits if it is a large area.
For small areas of dark patina like fingerprints from installers (my installer said he used gloves but he still got fingerprint-looking marks on our gutters). Use a synthetic scrub pad of synthetic steel wool to buff out the areas of the darker patina.
For these smaller areas, I just fixed them as I sealed the gutters so I didn't have to make two passes of the same area. 
If the copper gutters are shiny and you don't want to wait until they patina naturally to seal them, or if you want to seal them before they go on your home and you want a patina on them, you can use Jax brown copper patina solution. You will need very little of this and I'd suggest using a small amount first and darkening more as you go. Also, I highly recommend that you practice applying Jax patina on an inconspicuous area or small copper remnant first. Once the Jax darkens your gutters to the color you want, then you'll want to proceed to step 2. 
For the most natural look, have the gutters installed without sealant and wait a few months until they patina naturally. This will vary on climate and season, so just be ready with supplies ordered and on hand so that you can seal them once they reach the patina level that you like.
2- Wait to seal your copper gutters for a time when the temperature, weather, and forecast are right.
It is not advisable to apply the coating on metal that is too hot to keep your hand on for more than a few seconds. Conversely, If moisture is visible where you have removed your hand it is definitely too cold. Either wait until it gets warmer or use a heater or blow dryer/heat gun to prepare the substrate. If the coating is sprayed over dew or water, it will float on the moisture and will not adhere to the metal.
3- Gather supplies (see supply list), set up ladders, and put on protective gear.
Put on eyewear to protect your eyes from the denatured alcohol fumes.
Put on heavy-duty kitchen gloves. I double-gloved with food gloves underneath the heavy-duty ones because the Everbrite is sticky and sometimes I needed to take off the kitchen glove but I still wanted my hands protected from the other supplies and chemicals.
 Set up as many ladders as you have and can borrow. It is best to work quickly and it takes time to set up and move ladders so have as many as you can available and already set up. Sometimes I asked my husband to help moved the ladders so that I could keep up a steady pace.
4- Ready the supplies before climbing the ladder.
Pour denatured alcohol on a clean microfiber rag. Then slowly pour a little Everbrite coating onto an applicator pad, allow it to soak in, and then add more, and then more until the applicator pad is fully saturated. Get your steel wool if needed and climb the ladder with all three in your hands. Be careful as you climb.
5- If there is an area to buff out some dark patina, do that with the synthetic steel wool.
press lightly and try to avoid buffing one area too much. Aim to have the buffed area blend in with its edges. Once you are done with the steel wool, set it to the side or throw it down to the ground.
6- Next, using the microfiber rag drenched in denatured alcohol, thoroughly clean the gutters.
This will clean the gutters very well and it will evaporate in seconds so that you can quickly move on to the sealing. I made sure to go over each area two-three times so I knew that it was clean and ready to be sealed.
7- Then, using the applicator pad, apply the Everbrite coating.
The soffit is okay to be sealed and since I was getting Everbrite on the soffit in order to seal the entire exterior sides of my gutters, I also quickly sealed the small edge of the soffit that was next to the bottom of the gutter (see the video if this is confusing). Make sure to seal the nooks, crannies, and rivets as well. 
Note, I did not clean or seal the inside of my gutters as they were almost solid brown by the time the exterior patina was what I wanted. I don't mind the inside being completely brown and I imagine it would have been very difficult to get the inside of my gutters dried, cleaned, and sealed.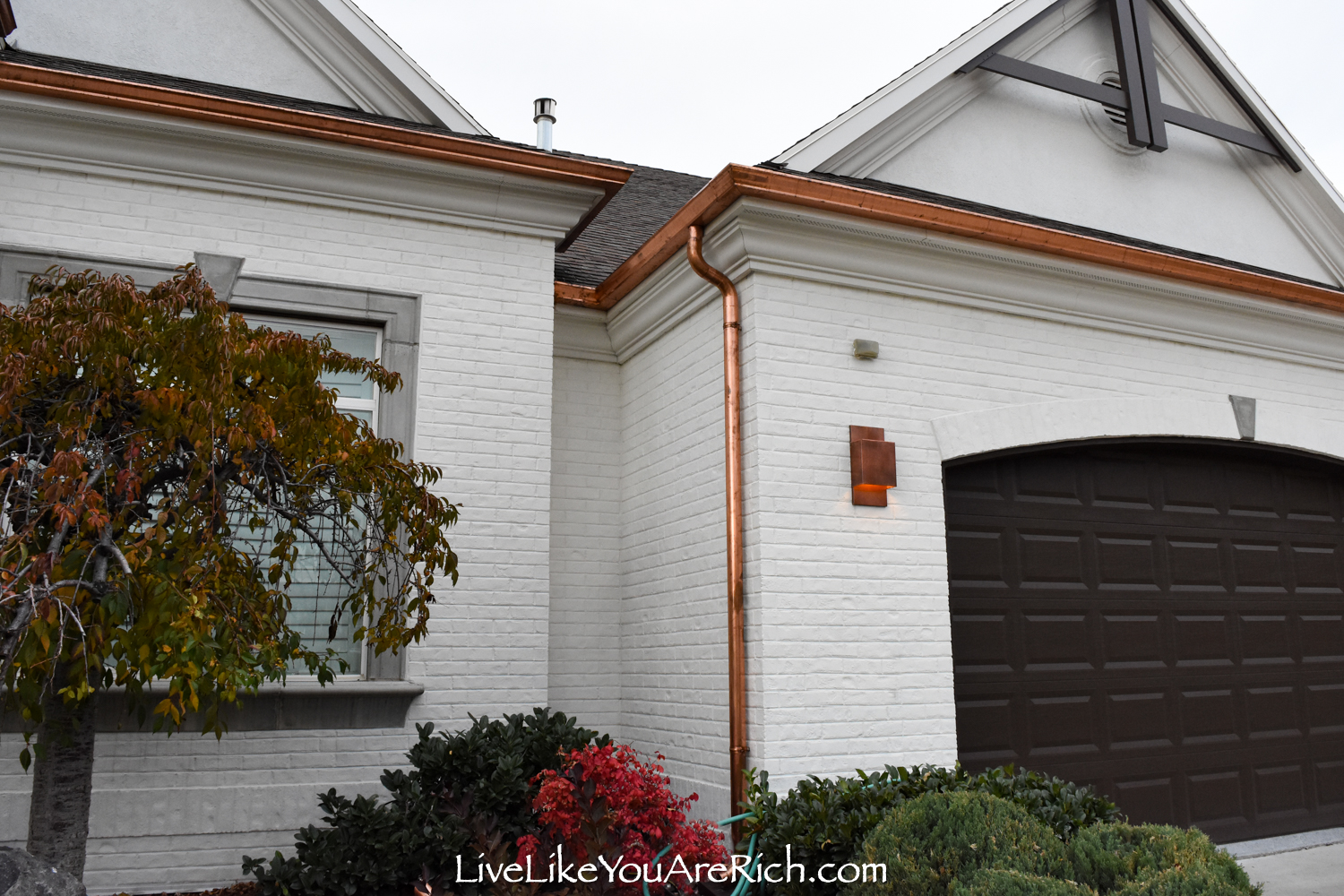 8- Work steadily and join the next section with its previous section before the Everbrite dries.
You'll want to work fairly quickly or at least at a steady pace so that when you have to climb down and go to the next section you have time to join the sections together before the coating dries. The sections of sealant will come together and self-level and not form a visual joint/edge if you are applying Everbrite at the right temperature, your gutters are not too hot, and you work at a steady rate. 
That's it.
My gutters took about 4 hours to seal and have been great for the past 2 years. Everbrite estimates sealed gutters will last 10+ years without having to reapply. This will vary on climate and sun exposure. So, you just have to keep an eye on your gutters and once they start to patina again, set aside a few hours to clean and reseal them.
I also sealed the yard lights and mounted lights (PM lighting) with Everbrite after they had time to patina a bit through a few rainstorms and they have kept their lovely color over the years as well.
I am not sponsored by Everbrite but they were super responsive to me and helped me calculate how much sealant to use. I ordered a little more than a quart just in case—but I didn't even use a full quart on my gutters. A little goes a long way. 
I hope this tutorial helps you if you want to seal your gutters too.
For other 'rich living' tips please subscribe, like me on Facebook, and follow me on Pinterest and Instagram.