A lot of people wonder how to download Twitch clips.
This platform is renowned among gamers as the best place to stream your matches. Elite Dota 2, League of Legends, Fortnite, CS:GO players have been using the platform since its inception. One of the main reasons why you would want to download clips from Twitch is so you can show them on your social media.
But, there is another good reason why you would want to do this. DMCA takedowns have increased in the last few years. So, you never know if a certain funny moment would stay on the web. Furthermore, the streamer might also delete this clip.
You might be interested in learning how to make money on Twitch.
With the Twitch clip download feature, you can preserve these moments forever on your computer. Of course, it is even funnier when you share them with friends, so you can all have a nice laugh together.
How to download Twitch clips?
Here is how to save Twitch clips on your computer:
Start by going to Creator Dashboard
Here, you will find the Content menu
Click on Clips
Find the exact clip that you liked
There will be a Share icon in the form of an upward-pointing arrow
Once you click on this arrow, a new set of commands will appear
Click on the downward pointing arrow; this is the first option that appears
Save the clip wherever you want
Things are a bit different if you're taking videos and clips from other streamers. Here is how to access other person's content:
Click on the content creator's logo positioned in the bottom left corner
This will take you to the creator's homepage
You will notice several tabs on the navigation bar, one of which is Videos
When you click on Videos, you will have to filter the results by clicking on Filter By option
This will open a new list where you can select Clips
The rest is the same as with your own content
These features can be used for all your personal Twitch clips. This includes clips that you made by using content from other channels or clips that you created from your own content. But, if you weren't the one who made the clip, and the clip is not on your channel, you will have to utilize external apps for downloading.
Some of the most popular Twitch downloaders are Clipr, Clipsey, and SoundCloud to MP3 Downloader. Each one of these tools can do a good job, and you can't really make a mistake when using any of them. Basically, they work by copy-pasting the link and then clicking download. In that sense, they are very similar to tools used for YouTube and Twitter.
Best Twitch Clip Downloader
Whenever you want to access other people's content, it is best to use Twitch clip downloader tools. There are a lot of useful Twitch apps out there, and they are really easy to use. The vast majority can also make a twitch to mp4 conversion. 
Clipr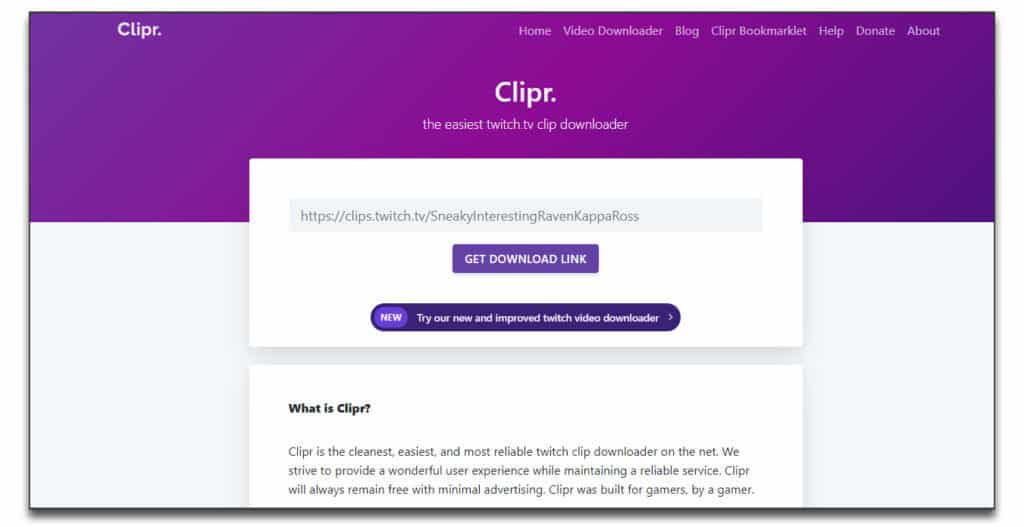 If you're looking for a clean and easy way to download Twitch clips, there aren't many tools better than Clipr. Like most other tools from this category, you can use this one by simply copy-pasting the link into the box and pressing "Get download link."
The app provides one of the best user experiences, and the service is available to everyone free of charge. What's also great about Clipr is that you're not bombarded by unnecessary ads. The website opens rather quickly, and there is nothing that would interfere with your experience.
As the company owner mentions, it is a tool built for gamers by a gamer. By using it, you can save some of the best experiences you had as a gamer and rewatch them at a later date.
Clipsey
If you check Clipsey, you might notice that this tool is very similar to Clipr. Basically, all you have to do is copy-paste a link and download it within seconds.
The tool grabs the video file from the source, and it downloads it directly. You can then access this file without your download folder. As you can presume, the app is completely free.
While the website doesn't have ads as of right now, the company wants to add some in the near future. This would give the previously mentioned Clipr a significant advantage. Nevertheless, even with ads, we presume that Clipr would run as smoothly as it always had.
The tool is completely free for use regardless of the quantity of Twitch clips you wish to download.
SoundCloud to MP3 Downloader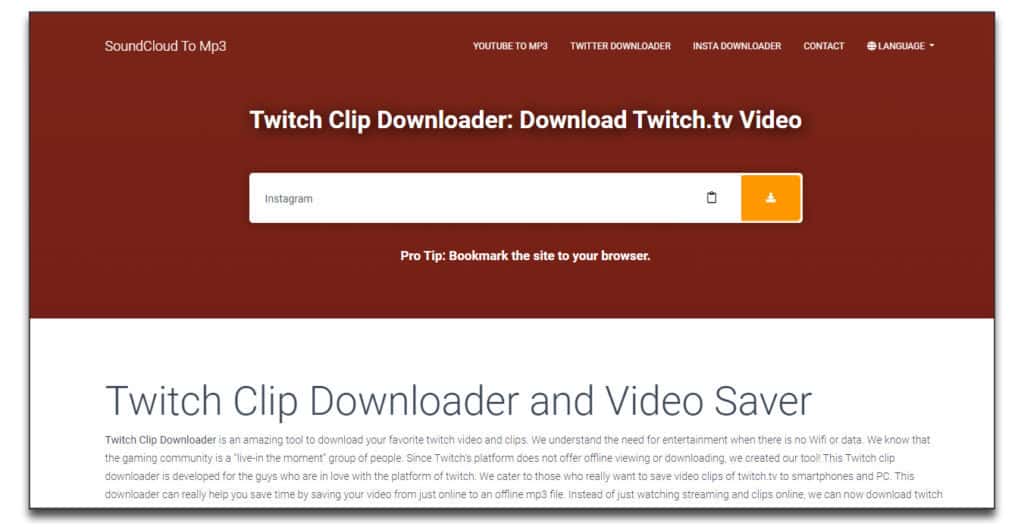 SoundCloud to MP3 Downloader is the most complex tool on the list. Besides Twitch, it can also be utilized for YouTube, Twitter, Instagram, Facebook, Dailymotion, and so on. As such, you can also use it for other videos and interesting clips you found on other sites.
The tool seamlessly switches between different types of videos, and you won't even be able to tell the difference. You could be downloading a Twitch video in one second and an Instagram clip right after that.
Like all other downloaders, it is rather easy to save your clips with this tool. First off, you will have to go to Twitch and find the page video that you wish to download. Like other tools, SoundCloud to MP3 Downloader allows you to choose between several different resolutions.
Twitch Clip Downloader
If you wish, there are also several extensions that you can use for this purpose. Twitch Clip Downloader is a great option. It works on Google Chrome, and it gives you a fast way of saving Twitch clips.
When you install it, you will get an extra button on all your Twitch Clips. A button named Download Clip will appear next to the Watch Full Video button. This way, you can directly download a clip that you liked. It is rather simplistic like all the other tools we've mentioned on the list. But, instead of going back to all these previously mentioned websites, Twitch Clip Downloader allows you to download a clip as soon as possible, without taking additional steps.
How To Download Twitch Clips FAQ
Can I download twitch clips?
Yes. Check this first part of this post to learn how to download your own or the second part with twitch clip downloaders.
Can I download twitch clips on my phone?
Yes. With the downloaders in this list, you can download twitch clips to your phone.
How to download twitch clips on iPhone?
Use one of the tools in the second part of this post, they will work on iPhone too.