In this post, I will explain how to download TikTok videos. TikTok is a platform that spread like wildfire in the last few years. Allowing users to create short, entertaining videos, quickly became popular due to its format, which is ideal for young generations.
Some of these videos are so well made that people want to save them for a later date. Because of that, a lot of users wish to know how to download TikTok videos. By saving them on a computer, you can enjoy these awesome moments again and again.
How To Download TikTok Videos?
Here is how you can save videos if you have Android or iPhone:
Open TikTok app on a phone
Choose a particular video that you want to save
Now, you will have to click on Share and choose Save Video
This way, you will download a TikTok video on the phone
By going with this method, your videos will have a big watermark on them. Most people hate them, which is why they are more likely to use one of the TikTok video downloaders for this action.
Alternatively, you also have the option to perform TikTok download through live photos on your iPhone device. The main reason why you would choose this approach is that you can reduce the size of the watermark. Instead of having to deal with a large floating one, you will only have a small TikTok watermark in the corner.
Keep in mind that, unlike the previous method, this is only for iPhones. Here is how you can do it:
Start TikTok app on the phone.
Find the file that you want to save.
After clicking on the Share icon, there will be an option Live Photo at the bottom. By selecting this option, your TikTok videos will be downloaded in the Photos section as a Live Photo.
Go to the Photos app. Here, you should click Live Photos. When you open the iOS share sheet, you can save them by clicking on Save as Video.
By doing so, your Live Photos will be downloaded as videos.
As mentioned, this will create a smaller watermark that is much less intrusive than the big one which you get with the first method.
Needless to say, when you perform a TikTok download, you don't want to look at these annoying watermarks in the first place. The best way to do it is by using an online TikTok video downloader.
Best TikTok Video Downloader
Every TikTok downloader that we're about to show is pretty simplistic and straightforward. These are usually free tools that you can quickly access from your browser. Just by copy-pasting the link, you can save videos without much hassle.
No matter which one you choose, you should get your videos in no time. Given that these tools are really small, they are usually managed by one person. So, don't be surprised if your favorite TikTok downloader is offline for a few days. Luckily, there are lots of alternatives.
Musically Down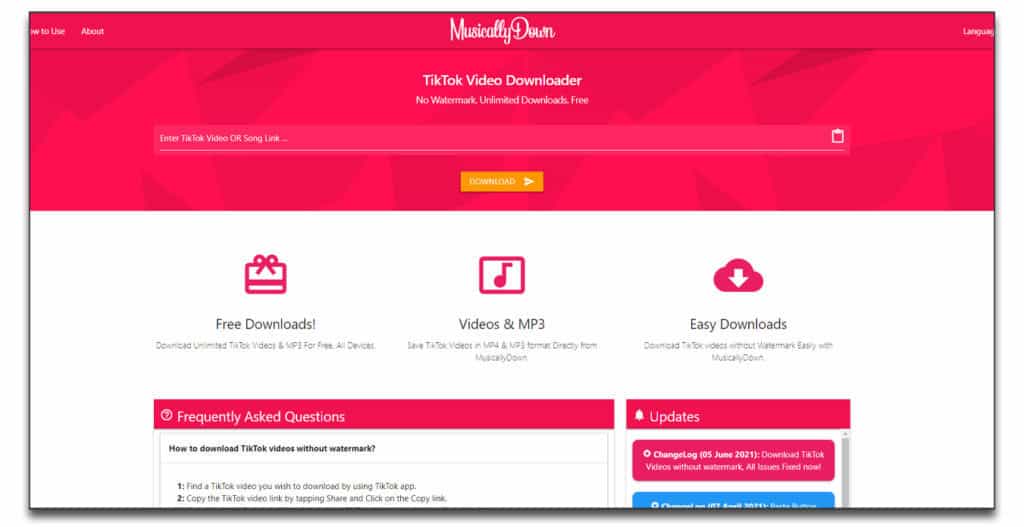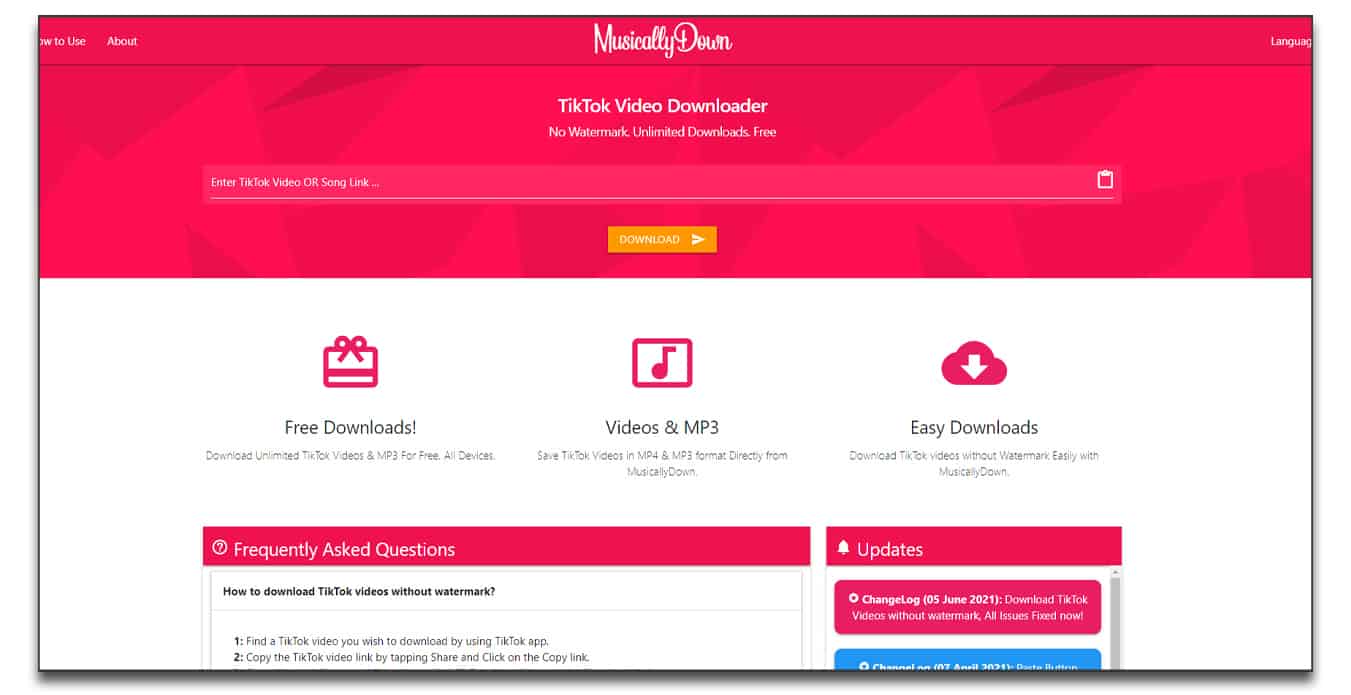 Musically Down is a pretty simplistic tool. Like almost any other video downloader, you just have to copy-paste the original link into the box and click download. When you wish to save a TikTok to MP4, there aren't many tools better than this one.
If you're a regular user of the app, you will be happy to hear that the company shows the latest updates and fixes on the bottom right side. That way, you can see how the app is improved compared to the previous version.
When using Musically Down, there will be an option to create a video with a watermark. When you copy-paste the link, there will be a box that says Video with Watermark. It is crucial that you leave it unchecked as you don't want to deal with this annoyance once again.
TTDownloader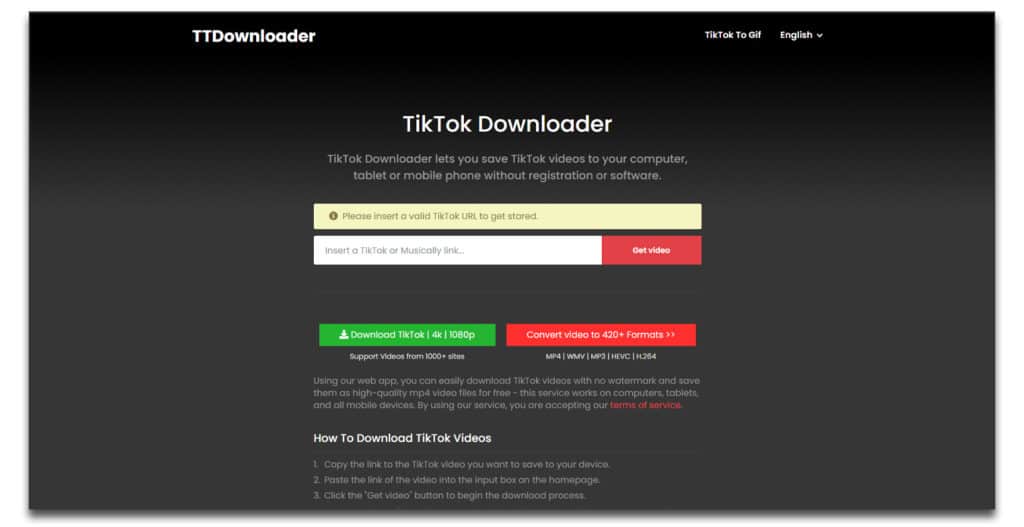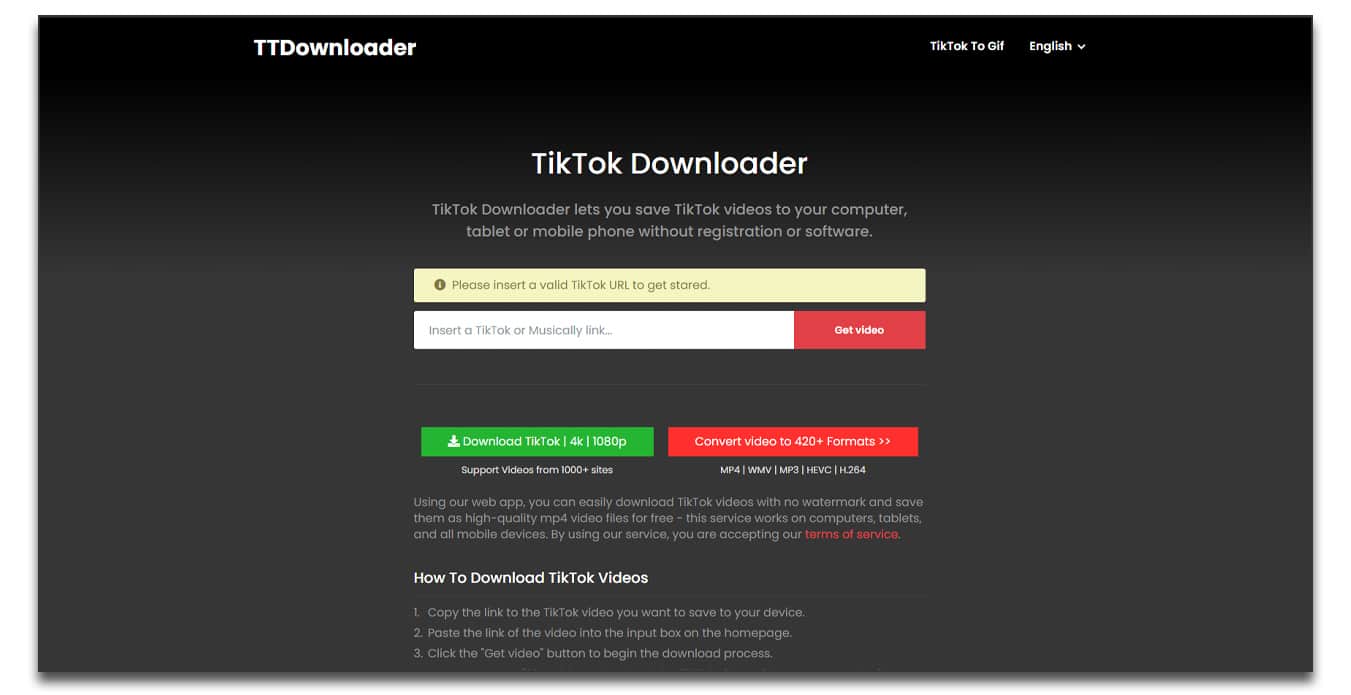 Another great TikTok video downloader on this list, TTDownloader (or TikTok Downloader), works similarly to Musically Down.
First off, you will have to go to the platform and copy the desired link. Alternatively, if this video is already opened in a tab, you can copy it directly from a browser. Once you have the link, simply copy-paste it into TTDownloader and press Get Video.
You have several options when downloading files with this app. You can go with a high 1080p resolution. There is also a feature that would allow you to convert all these TikTok videos into more than 420 different formats.
What's really impressive about it, and sets the tool apart, is that this Tik Tok video downloader is able to turn videos into GIFs. This is a great way to approach things and use a funny clip in an even better way.
SSS TikTok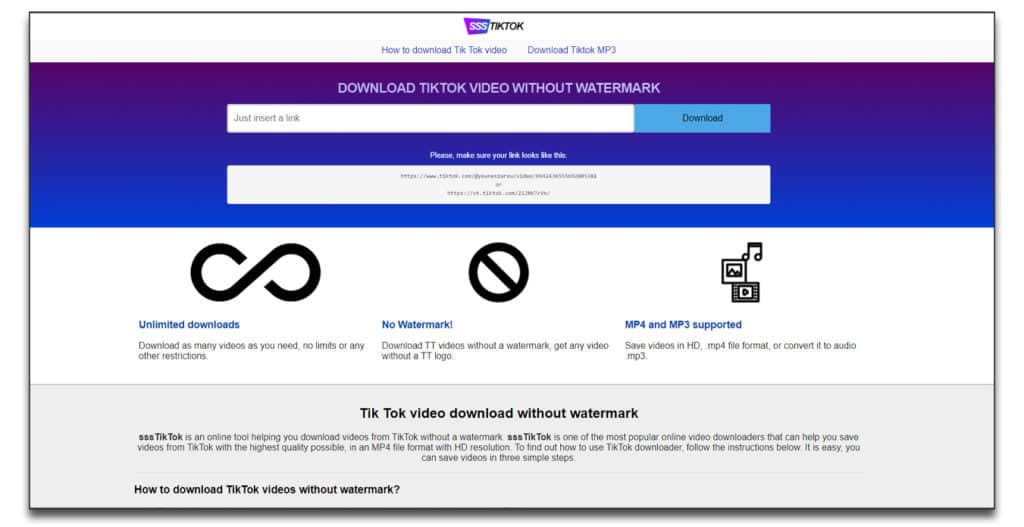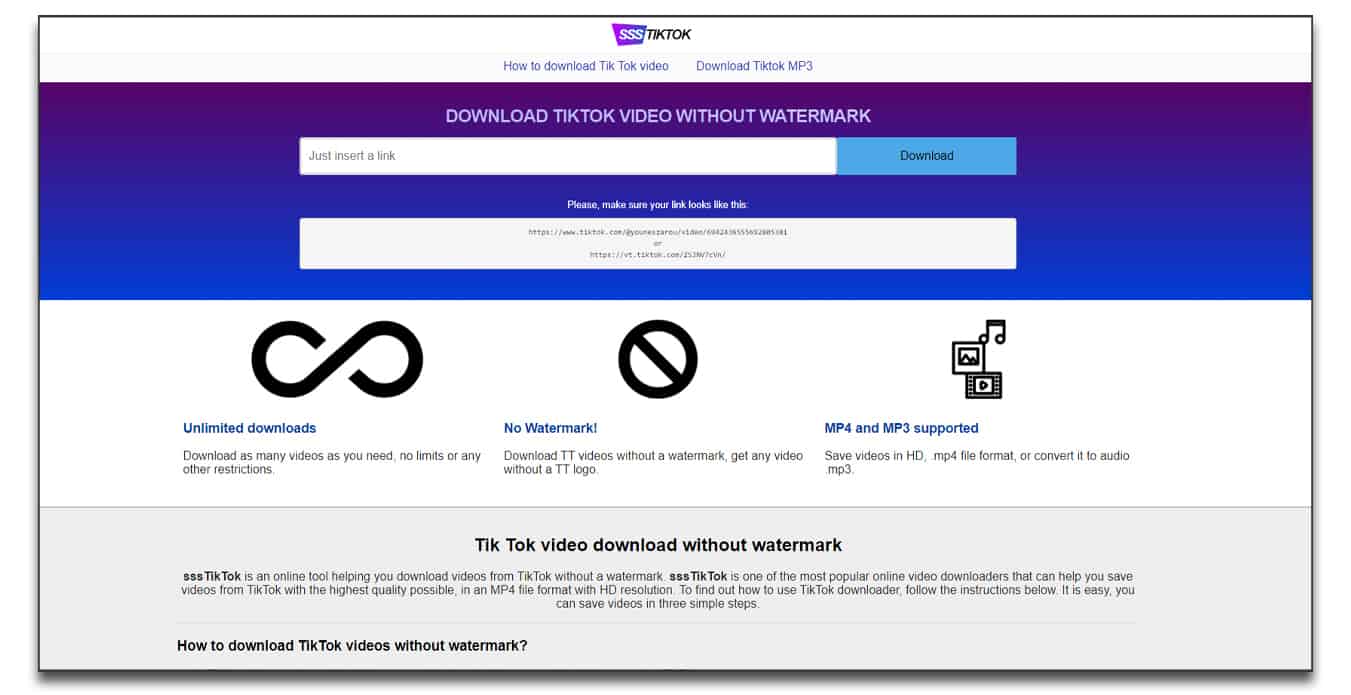 If you wish to download Tik Tok videos, you should definitely try SSS TikTok. Quick and easy to use, it will allow you to get your files in no time. The app allows you to convert videos into MP3 and MP4 format. There are also unlimited downloads and no watermark.
SSS TikTok can be used for both PC and phone. Furthermore, it also works in China, for the Chinese version of TikTok version called Douyin. What's really great about the tool is that there are no ads. It opens really quickly, which can make a world of difference if you wish to download several files at once.
TikMate
You can use this app to avoid nasty TikTok watermarks. It can be used in a browser, or you can download it as an app. Furthermore, it is a great solution if you wish to get your videos in higher resolution.
The tool works with Tik Tok Downloader, Douyin Downloader, and Musically Downloader. TikMate is categorized as a PWA or Progressive Web Apps. This means that the tool will give you some other features based on the device. For example, you might have access to offline features as well as push notifications. All of this without losing speed.
The downloadable app has really solid security, and it is much faster than the website itself. Lastly, you can add it to the home screen.
You might want to also check:
Conclusion
While the tools in this list are tested, check your downloads with an antivirus, just to make sure that you are safe if you are downloading from a different source.
FAQ
How to download TikTok videos?
The easiest way is to use one of the tools on my list.
How can I download TikTok videos with URL?
Put the URL in one of the TikTok downloaders from my list and that is it.