Hey there, my dear friends! Welcome to my website. I sincerely hope you're all doing fantastic. If this is your first visit to my blog, allow me to introduce myself. I'm Babita Singh, and today I'm thrilled to share with you how I managed to generate an incredible surge of traffic using a comprehensive Tailwind Tribes list.
I'm thrilled to share with you the incredible impact I experienced with Tailwind Tribes in just a few months. It's truly remarkable how my blog's page views soared from 50,000 to an amazing 90,000 in just two months. I can't wait to reveal the secrets behind this phenomenal growth. So, get ready for an exciting journey ahead!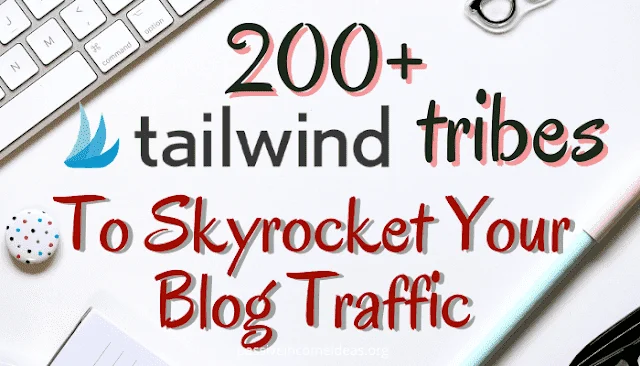 Therefore, 80% of my total traffic source come from the Pinterest, and this traffic sent by Tailwind Tribes to my Pinterest account, so if you are not utilizing the power of Tailwind Tribes I must say, you are not blogging seriously.
What is Tailwindapp?
If you're not familiar with Tailwindpp and wondering what I'm referring to, let me give you a quick introduction. Tailwindapp is an incredibly useful automated scheduler tool designed specifically for scheduling posts and pins on Pinterest and Instagram.
What's great about Tailwind app is that it's highly optimized and even recommended by Pinterest itself. If you're interested in learning more about Tailwind app and how to use it, I recommend checking out a detailed post I've written "Tailwind Pinterest – Tailwindapp the Best Pin Scheduling Tool!".
It's a step-by-step ultimate guide that will walk you through everything you need to know about Tailwind and how to make the most of it.
What are Tailwind Tribes?
Once you start using Tailwindapp, you'll discover a fantastic opportunity to join Tailwind Tribes. These tribes function similarly to Pinterest Group Boards but with an added level of effectiveness. In fact, they work wonders compared to Pinterest Boards. Tailwind Tribes can cater to specific niches, ensuring that you can find a tribe for virtually any niche you choose.
Therefore, if you can't find one, you have the option to start your own tribe. While tribes share similarities with Pinterest Group Boards, there are two key differences worth considering…
To access Tailwind Tribes, you need to have a Tailwind account as they are exclusively available through the Tailwind app platform.
Additionally, participating in tribes requires you to pin and share other people's content. This collaborative aspect is what makes each tribe incredibly powerful and effective in driving engagement and visibility.
Importance & Benefits Of Tailwind Tribes
People here are actually pinning your pin to their board so that you can really get in front of millions of people and that's the beauty of it. It's also very easy to get accepted into the Tailwind tribes.
If you compare Tailwind Tribe to Pinterest group boards you'll spend an endless amount of emails and may never get them answered. But when you join tribes, lots of tribes get to join you, no need to even request for. You can connect to them without any indication.
Another thing I love about Tailwind Tribes is that it works seamlessly with your organic Pinterest strategy. So if you're getting hundreds and hundreds of shares from Pinterest users, Pinterest will obviously consider those signals to grow your Pinterest Account.
This way Pinterest knows that your content is popular and is being shared on Pinterest, so it push your content up to the search rankings and also pushes your content to Smart Feed. If you have a good tailwind tribe strategy it can really boost your organic intro strategy as well.
If you are not using Tailwind app Yet, Here you can start your 1st month FREE Pro Subscription using my link. And if you already joined Tailwindapp, then you must be wondering which are the best tribes to join for You and how to find them.
Disclosure: This post contains affiliate links as I am an Affiliate Partner with Tailwind and You and Me both will get 1 month FREE Pro Subscription worth $15 where you can schedule 100 pins in a month if you sign up via my link. Thanks in advance for supporting my content!
200+ Best Tailwind Tribes List:-
There are a lot of tribes floating around, some are much better than others because of their rules and consistency, they perform well.
It can be really frustrating when you share your stuff in tribes and don't get any good results. So, I thought I should make it easier for you by putting together a list of tailwind tribes. These are the tribes that work well and are relevant to your interests or industry.
If you join these tribes you gonna thanks me for sure but before sharing list of tailwind tribes you should know the normal rules for these tribes…
Pins must be vertical and high-quality.
You should repin two other people's pins for every pin you post to the tribe.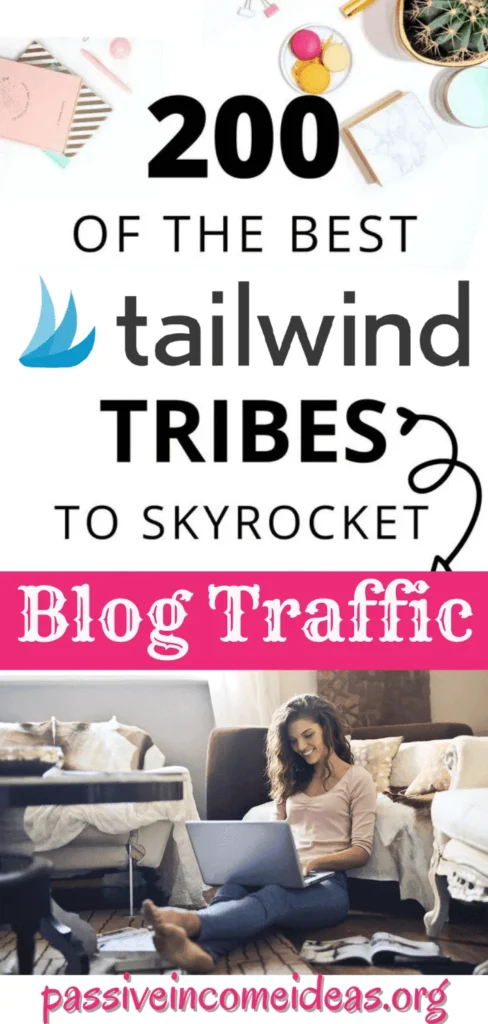 There is a list of 200+ Best Tailwind Tribes based on Niches, so that you can join the best tribes according to your niche selection.
Top 15 The Best Must Join Tailwind Tribes List
All Topics Common Tailwind Tribes List:-
Blogging & Affiliate Marketing Related Tailwind Tribes List:-
Online Business & Work From Home Tailwind Tribes List:-
Social Media Marketing Related Tailwind Tribes List:-
Femele Empowerment Related Tailwind Tribes List;-
QUOTES, Self-Development & Motivation Related Tailwind Tribes:-
Tailwind Tribes Related to Book Posts:-
BloggersGetSocial Books
Books
Books, Book Swag, and Book-Related Giveaways 
+ Books and Reading +
Children's Books
Children's Books Tribe
Paranormal/Fantasy Books
Literacy Related Pins
Self-Publishing Authors
Steamy Romance Books
The Bookish Life
Word Nerds
DIY & Crafts Related Tailwind Tribes:-
AllThingsRelax
300+ Repins – Popular DIY, Crafts, Home, & Recipes
All Things DIY, Home Decor & Crafts
All Things Planning & Bullet Journal
All Things Parties
All things sewing!
Crafts & Decor (NO RECIPES OR BEAUTY)
Creative Entrepreneurs L.A.B.
Crafts, DIY and Tutorial Pins
Creative Homemaking
DIY & Crafting Bloggers
DIY Bloggers Galore
DIY Bloggers
Free Printables
Home Design and DIY
Handmade & Homemade
Kids' Crafts
Rocking Pinners Network
Planners Pinning Planners
Education Related Tailwind Tribes:-
A Thinkers Toolbox Tribe PreK-6
Career Advice and Guidance
Badass Bloggers
Educational Finds Tribe
Badass Bloggers
Fun Learning Kids Activities 
Homeschooling and Teaching
Homeschooling/Education 
Middle School and High School Lesson and Activity 
Preschool at Home
S.T.E.A.M.
Special Educators Unite
TeachersDojo Group
Teaching Blog Posts & Freebies
Teaching Ideas
Teaching Blog Posts
The Homeschool Nook
Writing Prompts and Tips
Fashion, Beauty & Style Tailwind Tribes List:-
Beauty bloggers tribe!
Fashion and Beauty Tribe
Fashion Boutique
Fashion, Beauty, Style
Friends Forever
Female Fashion Bloggers
Jewelry
Natural Health & Wellbeing
Women Beauty Tribe
Female Fashion Bloggers
Food & Recipes Related Tailwind Tribes List:-
BloggersGetSocial Foodies
Bloggers Lounge Tribe
Best of the Best Recipes
Breakfast Recipes Only
Culinary Travel
Fabulous Food Pinners
Fab Recipes 4 All
Favourite Food Bloggers
Food & Recipes
Hungry Pinners Recipe Tribe 
Healthy Food Tribe
Keto Low Carb Recipes
Mmmm Recipes
Pretty Food
Power Pins  – 50k or more!
Rock Star 10k Recipes
Vegan Recipes
Lifestyle, Health and Fitness Related Tailwind Tribes:-
Entrepreneurs & Coaches
Emotional Health
Fitness Tribe
Healthy & Eco-Friendly Bloggers 
Gettin' Healthy + Happy
Inspired & Mindful Living
Mental Health
Mental Health Bloggers
Life Coaching & Self Help
Natural Health & Wellbeing
Personal Growth & Mental Health Bloggers
Positive, Fit, and Healthy
The Spiritual Tribe | by The Path Provides
WEIGHT LOSS | DIET | FITNESS
WEIGHT LOSS | Yoga | Fitness | Healthy Living
Women and Mental Health
Bloggers Pin Bloggers
College Life
Ladies' Magazine
Money & Finance Related List of Tailwind Tribes:-
All About Money
Everything Money
Frugality and Personal Finance
Fabulously Frugal Folks
*Mad Money
Money Matters
Money Saving Tips
*Money Management Masterminds
Personal Finance 
Personal Finance Bloggers Unite
Personal Finance Bloggers
Personal Finance Junkies
Save Money | Financial Freedom | Debt Relief
Tailwind Tribes List Related to Parenting:-
Amazing Mom Bloggers
Being a Mom
Breastfeeding
Kid & Parenting Rock Stars
Kids, Parenting and Mom life
Kid's Birthday Party Planning Tribe
Learning with Play
Mom Bloggers Swap
ManagingMommies Tribe
Mom Resources
MVW- Parenting, Lifestyle & food
ManagingMommies Tribe
Oh, Baby Baby!
Parent and Family Blogs
Pregnancy & Parenting
Practical Mommy Lifestyle
Special Needs Parenting
Pets and Animals Related List of Tailwind Tribes:-
All Things Equestrian & Western
Animal Lovers
Animals and Birds
Blogging about Pets and Paws
Cats of Pinterest
DogPawsCatClaws
Dog Care Tribe
Dogs & Cats
Animals and Birds
Dogs, Cats and Senior Animals
Dogs Dogs Dogs!
Dogs – Dog Training, Treat Recipes and Puppy Tips 
Animals and Birds
Hold Your Horses
Naughty Cats
Pet Care & Advice
Pet Pins only
Pet Blogger Support Group
Pets and Animals
Pets and Wildlife Animals
Pet Blogger Support Group
We Love Cats & Kittens
Traveling Related Tailwind Tribes List:-
Accommodation Around The World [Mappin Monday Tribe]
Budget Travel & Lifestyle [Mappin Monday Tribe]
BloggersGetSocial Travel
Culinary Travel
Female Digital Nomads
Dream.Pin.Go. [Mappin Monday Tribe]
Outdoor & Wildlife Travel [Mappin Monday Tribe]
Top Travel Destinations & Tips
The Best Travel Hacks, Inspiration & Destination Tips
_Travel_
Travel and Wanderlust
Travel Bloggers
Travel Inspiration Wow!
The Best Travel Hacks, Inspiration & Destination Tips
Travel Power Pinners
Travel Viral Pins (500+ repins)
Travel Tips and Destinations
Traveling around the world
Travelers Tips
Ultimate Travel Inspiration and Tips
Wanderlust & Foodie lovers Tribe
Wanderlust Crew
Wanderlust Travel – Asia
So this was my ultimate 200+ Tailwind Tribes list, I hope you gonna love this list and you will be able to find your best Tailwind Tribe out of these niche-specific categories.
Below are some resources I recommend to help you build and grow your business rapidly using the Pinterest platform.
Join Pinterest Crash Course to learn how to leverage Pinterest to generate sales, clicks, and leads for your business.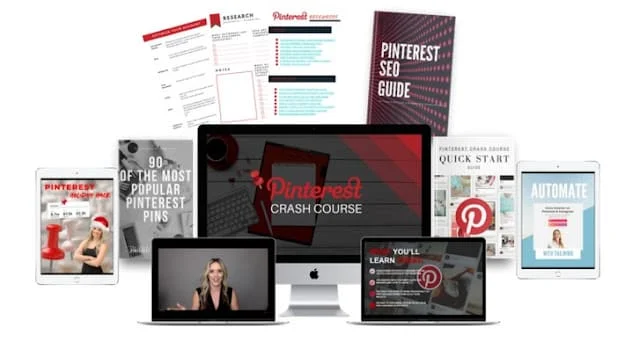 The most simple marketing strategies can lead to rapid growth unlike anything you've ever experienced before. You won't find these techniques anywhere else!  
Pinterest's best-kept secret for making your pins go viral.
You'll discover the secret to getting hundreds of visitors to your website on a daily basis by using this free auto-pilot marketing strategy.
You can almost always rank your content at the top by using these expert tricks.
Replicate your success over and over and over again with the bulletproof duplication formula.
Join "Pinterest Crash Course" Now
In addition, you will be able to take advantage of more advanced Pinterest marketing strategies, as well as learn how to build 6 figure businesses with PINFUNNELS.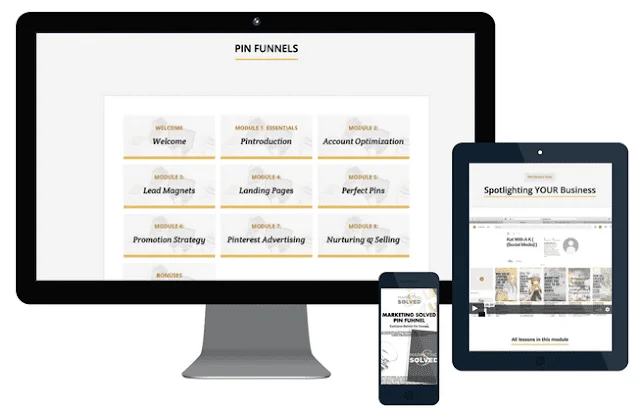 With the PIN FUNNELS, you will learn how to grow your Pinterest following in a way that will result in more traffic and sales than any other social media network. 
With this course, you'll receive 8 comprehensive video modules that walk you through the easy to follow steps for implementing PinFunnels quickly in your business.
Learn how to create an amazing lead magnet attracts your target audiences.
How to get every click to become a lead.
Learn our signature Viral Pin formula!
SEVERAL top secret Pinterest advertising strategies.
Learn how to create a Pinterest ad that goes viral and collects leads daily without paying a dime.
The capture and convert system to turn leads into paying customers.
If you find this post " Best 200+ Tailwind Tribes List to Skyrocket Your Blog Traffic & Rank " valuable and useful please do share this ultimate list with someone who need it.
Please share your thoughts about this post and let me know if there is something you wanna ask. Thanks for being here, I'll be waiting for you in the next post.
Thanks, and make it a Great Day